Imagine how incredible it would be if one day, years from now, your child will look at their family portrait and say:
"I come from THAT kind of love.
I belong to something bigger than myself. I am special.
My family loves me, that's really what we're doing here."
OUR MISSION is for every child to grow up in a home with a beautiful family portrait which is a daily reminder of how loved and special they are.
Because they won't stay that little for long.
BELLIZZI STUDIOS is an Internationally Award Winning boutique studio in Sydney.
Click below to learn more about why more than 3000 families chose our studio to capture the most special memories.
You deserve family portraits that make you feel beautiful and proud.
Organising a last-minute photography session can be stressful.
If only a photography session could be Easy, Fun and Enjoyable…
At Bellizzi Studios we bring the whole process together and make it effortless and enjoyable for the whole family.
Meaningful Portraits.
Luxury Experience.
Stunning Results.
Because You Deserve It.
Have you ever looked at your friends photos and dreamed of your own family portraits one day?
What to bring?
We have a professional space and provide everything you could possibly need for your baby and family portraits.
What to wear?
White/grey/black, neutrals or soft pastels.
Did we mention we have all sizes of t-shirts for dads and beautiful dresses for mums as well?
One less thing for you to worry about!
Why should we do a family portrait?
It's a fun and enjoyable process for the whole family.
With a bit of magic in lighting, flattering posing and artistry,
finally have family portraits you'll be proud to share.
We've helped thousands of families create their best family portrait ever.
When to book?
It's never too early to book your session.
We are a very high-in-demand studio, booking during your 2nd trimester is advisable.
Once we book your due date, a time frame will be reserved around the due date (our priority waitlist).
Sounds great! So why choose your studio?
Our unbelievable promise:
We are so confident that you will LOVE your images, that we offer
100% happiness guarantee –
no charge if you don't fall in love with what you see.
Cover your walls with love.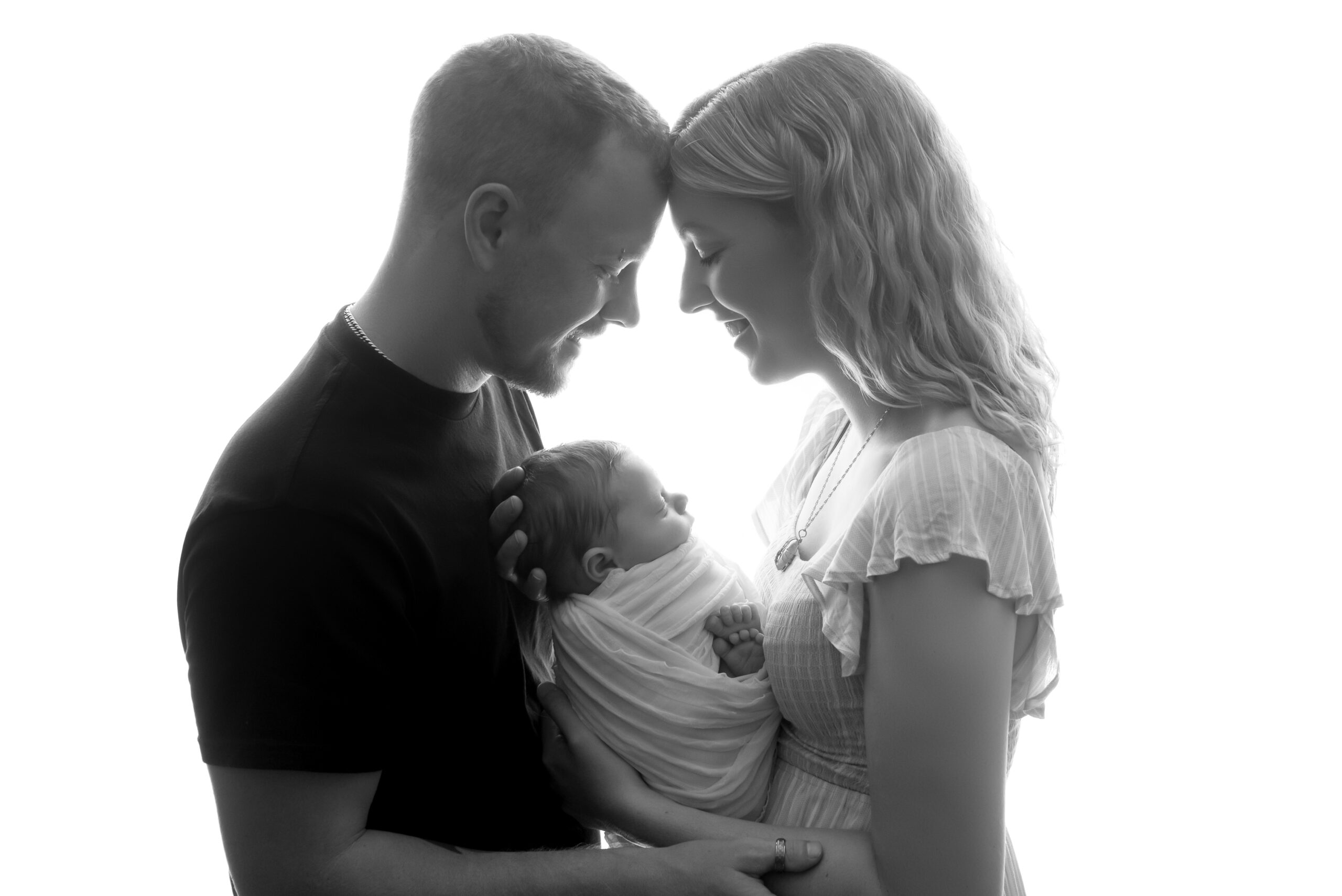 From the moment we first made contact with the studio it was a wonderful experience with our photographer.
We felt so relaxed when we went in for our newborn shoot and we were so happy to be able to take our beloved dog along with us too. Nothing was an issue and we were given as much time as needed to settle, change and feed our little man, this, in particular, made it much less stressful for us as first time parents. The photographs from the shoot are all absolutely perfect, every detail was seen while taking the photos to ensure perfect images for us to cherish forever.
We are so happy we chose Bellizzi Studios to capture this wonderful time in our lives.